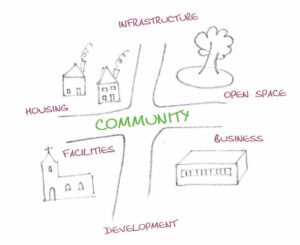 Morland Parish Council voted in 2016 to pursue the development of a Neighbourhood Plan.
As the latest stage of the Plan, Morland Parish Council recently conducted a survey regarding the future status of the field known locally as "The Donkey Field". For a copy of the survey results, please see here – Donkey Field Survey Results
A planning group has been constituted to examine the issues and prepare the plan. Members of the group are:
Councillor Lesley Robson
Councillor Dan Fitton
Councillor Peter Taylor
Julia Evans
Marion Marr
Jean Scott
Freddy Markham
Lisa Beken (Parish Clerk)
For a copy of the last submitted version of the plan, please see here – Morland Parish Council Neighbourhood Plan – January 2020
Neighbourhood plans have been around for a while, they are broadly a document designed to identify aspects of planning for the economic health and wellbeing of villages and towns. Their specific function is around housing needs, so identifying land and landowners willing perhaps to consider their plot as a designated area for future development is paramount.
In addition to this, other aspects of village life are considered , for example, landscape protection, business support and maximising the general amenity of Morland for residents and tourists alike.
There is government funding available to help in the production of the plan and this covers the cost of employing an experienced author. If we did not do our own neighbourhood plan it is possible that development could be imposed on the village, this is the main reason the Parish Council has decided to take on this substantial project.