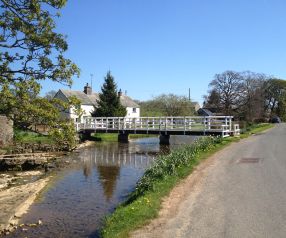 Through the village green runs Morland Beck. It flows over the ford at Lower Gate, the original entrance to the village and soon meets the weir, where a small flow is directed under the sluice gate and down the  mill race.
The weir was constructed over a hundred years ago to a level that provides a small reserve of water that can provide a constant flow of water to the mill, whilst the rest cascades beautifully over the rocks down to the main river bed and onwards to the sea.
The mill race supplied water to turn the weather wheel at the saw mill, which also drove the machinery in the mill. The water was channelled under the Crown Inn and the road to reach the mill, now the Mill Yard Café.
This beautiful area at the heart of the village is an importance part of village heritage with a history of bygone days and a very special environment for the community  and wildlife. Morland will endeavour to conserve it for future generations to enjoy.