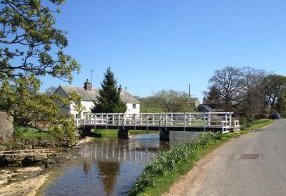 Morland — The wood on the moor — is a very ancient community that has adapted to meet the needs of its community over the ages. Unusually it has two main centres, The Square and the Hill Top.
The village square hosts the Crown Inn, the Old School, the Old Assembly Room, the Old Mill, powered by the now diverted Mill Race. The principle farm, Hall Farm, is now converted into homes, and the original Parsonage, now Morland House. Cottages built of local quarried limestone line the banks of Morland Beck which flows into the Lyvennet and thence into the Eden.
The other, older centre is at the top of the hill where three ways meet. Here stands the oldest structure in Cumbria still in daily use, St Lawrence's Church. It has a remarkable Saxon tower built in about 1050 with walls five feet thick, the only one in the north west of England.
The mediaeval village had some industry with the textile mills using the water of Morland Beck, and it was important enough for King Edward I to spend the night here in 1292 on his way to fight the Scots.
Since the war the village has transformed. in the 1950's new houses were built in the High Street. In the 1970's and 80's. Jackson Croft and Mother Croft were built, in the year 2000, Crown Inn Fields, and in 2007 Hall Farm was redeveloped for housing.